WE'VE GOT MAIL!
February 13, 2022


Good Morning, Morton is continuing to settle in, we all enjoy how he will come to us and hang out with us, when we curl up with a book (we are all avid readers). He is a quiet, unobtrusive personality, who is also very social. Rather unusual combination I think is perfect!! He is doing tops with using his litter box and scratching post, no troubles there. He loves to sit in the window sill, or up on my daughters bunk bed looking out the window. He is a great comfort in the loss of our beloved beagle. Thanks, Jennifer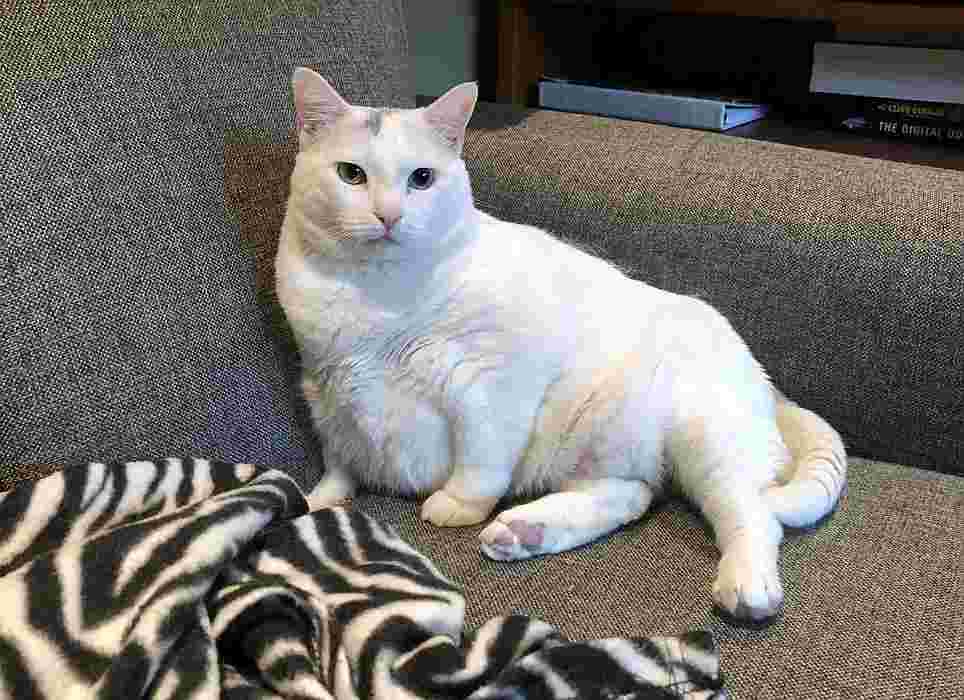 January 21, 2022


Thanks for checking in with us about "Starbuck" who we have renamed Betty (in honor of Betty White of course!). She is doing fantastic! Very playful and affectionate, so far a perfect record with the litter box, and as much as she loves spending time with us, she also enjoys her time on her own sleeping on one of her new favorite chairs. She already seems more mobile and her appetite is good but she is not begging for food at all. I think her weight will come down to a healthy level in due time. So far so great! Attached are a couple photos. Thanks for taking care of her while she was with you, Betty says "meow"! Darcie and Gregg
November 23, 2021


Hi! Just wanted to say Randy is settling in his new home very well! He likes to relax on the couch while we work all day and has his own cozy spot on the bed at night. I'm sure if he could he'd say hi and happy Thanksgiving! Best, Claire & Tanner & Randy
November 3, 2021

Jigsaw, now Tracer, and Lucky, now Lucas, saw the vet yesterday and charmed Dr. Rachel at Hadlock Vet. She pronounced them wonderful, as we knew she would. Their weight was just right, we got info from her as to amounts to feed and recommended food – and she also recommended a dental crunchy food to help keep their teeth clean, which both cats are clearly enjoying eating.
They received their rabies shot and we will be taking them back in a year for their second rabies and other vaccines they need. We paid for their rabies shots – so please consider it a 'donation' to PFOA. The AVID microchip forms are completed and will be mailed to AVID within the next couple of days. Both cats were angels at the visit, exploring the exam room, and getting treats from Dr. Rachel for good behavior. Thank you for these two wonderful and completely beloved cats – they are perfect for us and I believe we are perfect for them! Linda and Tom D
October 27, 2021

Hey guys, Baby is settling in nicely here in Sequim. She even sleeps with us at night and purrs away. She hisses at the dog sometimes and lets him know who's boss too. Hopefully that's a temporary thing. Here's a couple of pics of her in her fancy new cat tree we made.Thanks again for everything, this has been a great experience! Sean E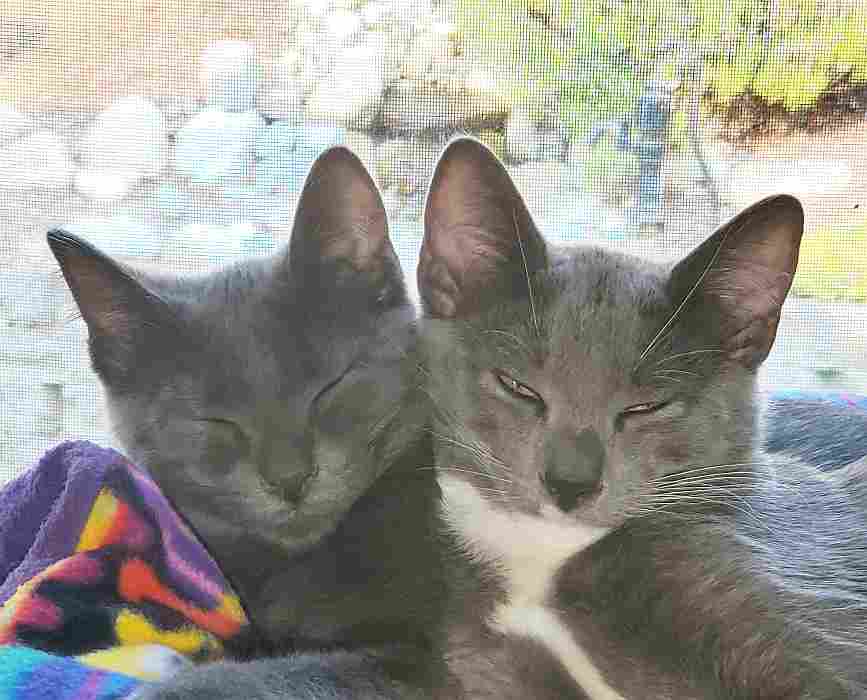 September 21, 2021


Attached are a few of the hundreds of photos I've taken of these two adorable munchkins. We adopted George (aka Purrfect) and Gracie in June when they were 12 weeks old. And now, at a little over five months old, they are sweet, loving, mischievous and very happy kittens. It's apparent in everything they do, and they bring us immense joy. Thank you for allowing us to adopt them! Jeff and Cherie Bond-Brickey
September 21, 2021


Dear Danette and the kitty loving care givers at PFOA, I think of you often and miss my visits to Safe Haven. I was sad to hear that Merry has died. Merry was quite a tough old girl with an attitude. She could still be sweet and friendly when the mood suited her. That is what I like about cats. Dogs are an open book. Cats are complicated. 😀 Thank you for all the good care you continue to give cats and kittens in need. I hope to visit you and the kitties sometime in the future. Mary Beth L
September 16, 2021


John and I are sorry to read that Tippy has crossed that great Rainbow Bridge. He was the best spokescat ever and I know he will be greatly missed. PFOA will have a Tippy-sized hole left which may forever be there. Please pass along our condolences to everyone, including Kimmie, Patti and Tracy. John & Sara
July 1, 2021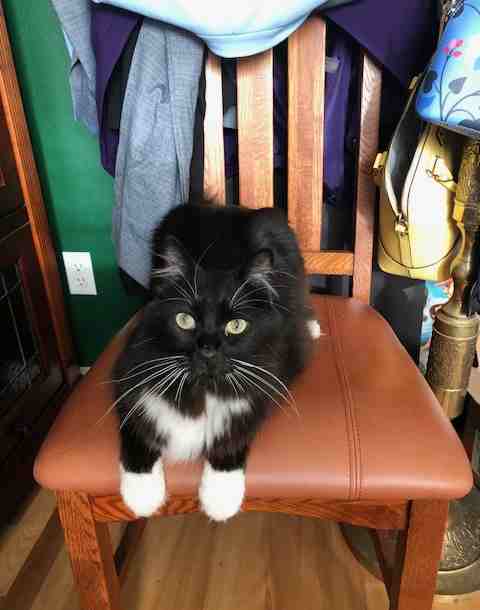 Dear PFOA, I wanted to share how well BowTie is doing in his new home and include a few pictures. Upon arriving home from after a long and pretty vocal car ride home, BowTie (Bow for short) exited the carrier and proceeded to calmly meander around the house exploring his new domain. After which he then hopped up on my daughters' bed, stretched out between her and her friend to receive hours of love, attention and belly rubs. That evening he took turns going between my husband and my laps on the couch, he gave us each equal opportunity to give him love and pets.
His arrival home coincided with record setting temps and our house quickly became very, very uncomfortable and he was showing some stress from the heat. Fortunately my husband's parents live a short 5 minutes away, have air conditioning and were thrilled to have him. So for the worst of the heat wave, he spent 3 nights in air conditioned bliss with my son coming along as well to chaperone and see to his care. He spent his days on their couch going from lap to lap, getting loved spoiled and possibly a little overfed- we were worried we might not be able to get him back! Bow's new grandparents really loved having him in their home. Overall he's eating, drinking and 'producing' quite well and seems completely 'at one' with his new forever home. We are so thrilled to have him in our family, it was just what we all needed-to have a furrbaby strolling through the house again and curling up in our laps. Thank you for taking such good care of him and helping him find his new forever home with us. Thanks for all that you do. Gratefully, Jennifer and the whole D family
June 1, 2021


Every Tuesday we celebrate Rascal. What a special day to adopt our beautiful boy. He is my " sugar". He is ready to go to bed at 10:00 every night. His blankets are on our bed where he makes " biscuits " before settling in for bedtime. At first he was hesitant to get on Ted's lap. Soon Rascal realized that his dad loved him very much and enjoyed petting him. <>We want to thank you and let you know that Rascal is loved, spoiled and enjoying his forever home. HUGS 🤗 Andrea and Ted
May 29, 2021
Hi all, got a call from a pfoa staffer wanting 2 know how i was doing. she said we could answer by phone or email, & i wanted the latter so i could include the latest fab videos of moi! unfortunately, pattijeanne must be suffering from stage fright. )-; our folks wanted to capture her unearthing me from an overturned box (a trick we've done repeatedly), but she now won't do same camera. go figure. … hopefully that will change in the near future. i am GROWINGGROWINGGROWING probably, obviously, as i speak. i really look more like a small cat than a kitten. either i am way older than everyone thought or i am going 2 be way big. my parents are pulling for the latter, but the jury's still out with my dogs. <>speaking of my dogs, yesterday my mom bought me 3 little mice. she threw 1 down, but patti snapped it up. so she thru another 1 down, & patti snapped that 1 up 2. she threw the last 1 down, and patti couldn't get it without losing the 1st 2. so i thought 'aha!,' this 1 is mine. but then linda snapped that 1 up. SO NOT FAIR! what do they think they are? cats?
that said, i think i'm really a dog in cats clothing. i run back and forth with patti +/or linda everywhere they go. all the time. i'm gearing up 2 growl with them 2, every time the ups truck makes an appearance. the dogs don't seem 2 realize that ups could mean amazon and amazon could mean toys and other good stuff.* but when in rome. … i actually think i might be part horse, too: i actually gallop, rather than run, back and forth. gives new meaning to the expression, thundering hooves. <>all & all, everything is going great. only my mom has 1 regret and that's that i'm not black. i plan to work on that. take care and hope to see you soon. xo, peach
i will send a snap of my new amazon scratching post. super cute! cheers & cheerio! xo, peach
April 5, 2021


I have an Izxy also but even though she looks like your Izzy their personalities are no where alike. Mine hates to be held but loves to be petted on her terms–which means all four feet on the floor. She is rotund and looks like a walking football at times LOL. She is very particular about what she eats liking gravy and not much else in the way of wet food. She does like her treats however. I think she inherited a lot of her mother's feral characteristics. We love her anyway. I enjoy your mews letters so keep them coming. Your friend, Beverly B
April 5, 2021


Great newsletter and great news as well! Thank you for all you do! Vivian B
February 10, 2021


Dear Mary Myers, Danette Grady, and all PFOA staff, who make PFOA the wonderful community organization it is. We and our cat, Rosalee, are indebted to you all for your service to us and to the many pet lovers in the greater Sequim and Port Angeles areas. It's our pleasure to be a part of your "family". Best wishes for continued successes, and we hope you all STAY SAFE!! The Covid vaccines are coming! (smile) Love to you all, Loretta and Dick
November 29, 2020


Thank you for all you do, give them all a hug from me! I send $$$ whenever I can. Elaine B
November 25, 2020


Thanks to all of you who work tirelessly to help all the dear kitties. We are loving sweet Maggie, adopted from PFOA, and she loves us back. May you keep safe in Love's warm embrace. Warmly, Julie and Phil R and Maggie

November 25, 2020
Thank you very much for all the good and necessary work you continue to do! We adopted our cat, Odie, last year on October 30. He has been a blessing to our family, having a gentle and loving soul. God Bless, Doug and Rita G

October 27, 2020
Hi, I felt like I needed to reach out to y'all and say thank you. I adopted my cat from you 13 years ago. His name was Brillo. He was the best cat in the whole wide world and I cherished every second I had with him. Not sure what else to say but thank you for taking a chance on him and blessing me to adopt him. He will forever be missed and loved. Alexandria W